Blackwork embroidery is a traditional form of embroidery. Any black thread can be used, but it's been found that tightly twisted threads have better results than embroidery floss. Blackwork is usually stitched in silk thread on cream or white cotton. Metallics or colored threads can be used as accents.
When beginning to learn blackwork, one technique to start your piece is to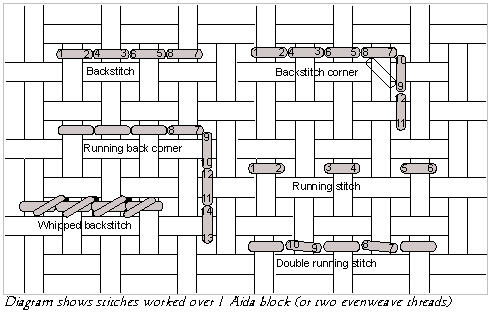 put in the outline first. This is not necessary, but it gives you a guideline to work to so you will know where to put your stitched patterns. You can use a back stitch, a running stitch, a whipped stitch, or a running back corner to stitch the outlines. To the right you can see a diagram of these stitches. If you are starting with an outline, you want to use 2 strands of floss for that and use 1 strand for the fill pattern.
Before starting your fill stitches, it's important to take the time to really look at them and und
erstand how they will be stitched. This helps keep the piece from becoming confusing and muddled. This also helps plan where you're going to start the different stitches so you'll be able to know which stitch would be better to do first, second, and so on.
On the left, you can see a chart of a pretty blackwork fill pattern. This would make into a very pretty blackwork pattern. Another possible pattern is shown on the right. Both of these would look beautiful.
A good way to use Blackwork in your stitching is for representing walls/buildings, tile/paving and baskets/weaving. Consider a floral/plant themed motif as a background pattern for designs featuring plants and flowers. The
piece below is by DMC and incorporates a modern twist on blackwork. This image was found at
The Making Spot
. The flowers are really beautiful, and the blackwork really helps capture their delicate beauty.
Also, check out this fun blackwork fish featured at the top. The artist improvised for this piece and created it using patterns of her choice. It's a lot of fun and shows that with a little planning, you can create some really fun pieces!
Some information in this blog was found on the following websites:
Needle N Thread
, and
Needlwork Tips and Techniques.
Check them out for additional information about blackwork! If you'd like to take a class on blackwork, we can also schedule a private lesson with one of our instructors. This will give you one on one experience and will help you get started learning to stitch with this fabulous technique!